The score report of Chinese Proficiency Test is an important proof of the Chinese proficiency of the test takers. Some test takers who fail to check the information during
registration online or on site, or fail to carefully check the information in the confirmation letter and admission ticket after the registration, as a result, will end up in
inaccuracy of personal information on their score report. In order to guarantee the normal use of the report, test takers may apply for score report information modification.
Conditions on applying for score report information modification
(1) The applied information modification is limited to the following cases:
• Name is misspelled
• Nationality information is incorrect
• Gender information is incorrect
(2) Test takers shall provide relevant documents, such as passports and ID cards. (3) An application for the score report information modification shall be submitted within the validity period of the performance report (within two years after the test);
1. Application procedures for score report information modification service
Test takers who meet the above requirements can apply for the modification by logging on to the www.chinesetest.cn, with following procedures: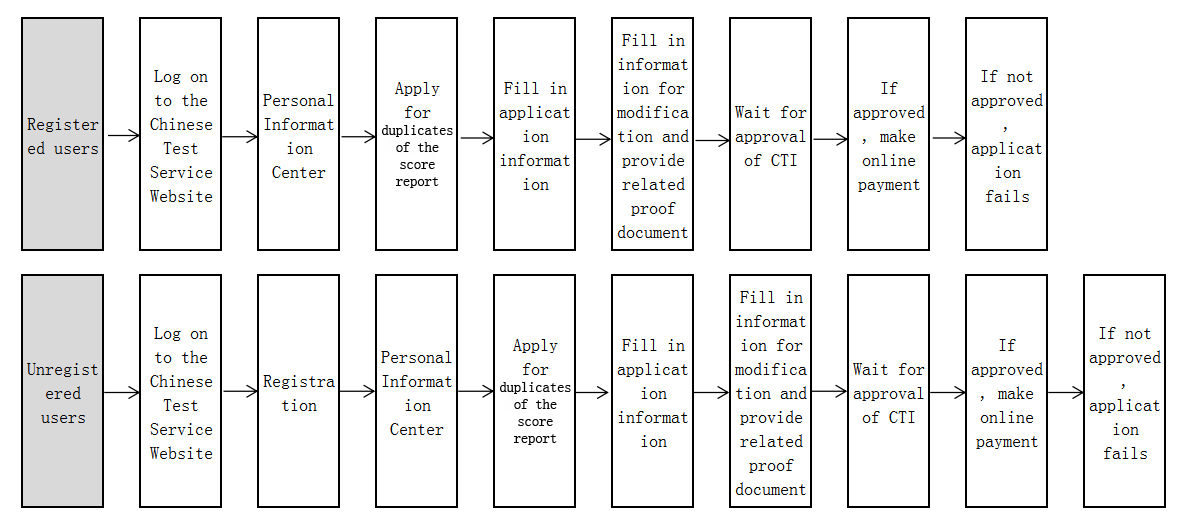 2. Service fee for score report information modification
The service fee for score report information modification is a total of 180 RMB (including the new score report production costs, excluding mailing costs).
Five working days after the test takers log on to www.chinesetest.cn to submit an application and the relevant supporting documents, CTI examines and
approves the application and test takers pay the related costs, CTI will send out the re-produced score report. Please also refer to the duplicates of the score report delivery service for multiple copies of score report.
If you apply for the expedited service, you need to pay an additional 50 yuan/ copy. After three working days since the next after the test takers make related payment,
CTI will send the score report.
3. Time limit for applying score report information modification
Score report information modification service can be applied after score releases.
4. Delivery scope of score report
CTI will send the score report to the mailing address, which is filled in online by the test takers, this includes the recruitment institutions, the employing organizations,
the relevant Chinese teaching institutes, other institutions and the address of the test takers themselves.
5. Means and cost of delivery
Test takers shall cover the mailing costs of the hard copy , with DHL for international destinations, Hong Kong and Macao, and EMS for Mainland China.
Test takers may log on to the Personal Center of www.chinesetest.cn to query details of the mailing costs and check the delivery in DHL or EMS official website/service
hotline with waybill number.
6. Application link
Application for score report information modification
Tips: Test takers should carefully check the personal information in registration, information confirmation, admission ticket printing and other links. In case of
inconsistency with the actual personal information, you can log on in the Website (www.chinesetest.cn) or contact the test center for modification free of charge.