New HSK and YCT Tests Held at Tongji University
[source] HANBAN [ Date of issue] Mar 19, 2010
  The first New Chinese Proficiency Test (New HSK) and the New Youth Chinese Test (New YCT) were held across examination sites worldwide on March 13-14, 2010.
  As an examination site in Shanghai, Tongji University hosted the HSK Level Three to Level Six on March 14.
  Both teachers of Tongji University and examinees widely regarded the new HSK test to be more practical and effective than the previous test. The six levels vary in difficulty to satisfy Chinese language learners with different proficiencies. Listening, reading and oral capabilities are examined in a more scientific manner so that difficulty in handwriting and expression of heard content is avoided and language skills are assessed more accurately.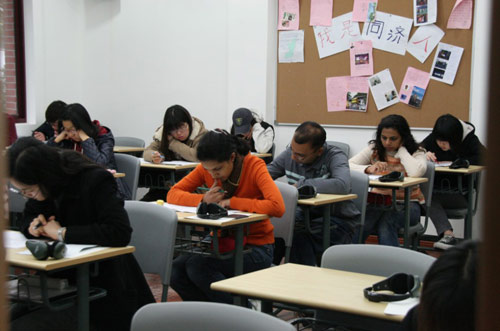 The Tongji University examination site is well organized. The site has been visited by Cai Jianguo, a renowned scholar, Director of School of International Culture Exchanges and CPPCC member and by representatives of the Hanban Examination Division and International Division.