The Confucius Institute in Mexico City launches its first New HSK Exam
[source] HANBAN [ Date of issue] Jun 2, 2010
Mexico City, April 17th – the Confucius Institute in Mexico City launched the new Hanyu Shuiping Kaoshi (HSK), and about 60 examinees took the exam.
The new HSK is a national standardized exam which aims to test the Chinese proficiency of non-native Chinese speakers. This year the HSK has added a site at the Confucius Institute in Mexico City which allowed the Confucius Institute to offer opportunities for students to take the HSK exam from the Preliminary Ⅰ to the Advanced Ⅵ levels. Students came to the exam site early on the exam day, and some students even came from Belize to take the new HSK.
Prior to the exam, the Head of the department of education of the Chinese Embassy in Mexico and professor Dai Chaoding also came to the exam site to encourage students and wished them luck for their results. The exam began at 9'o clock in the morning, and ran very smoothly.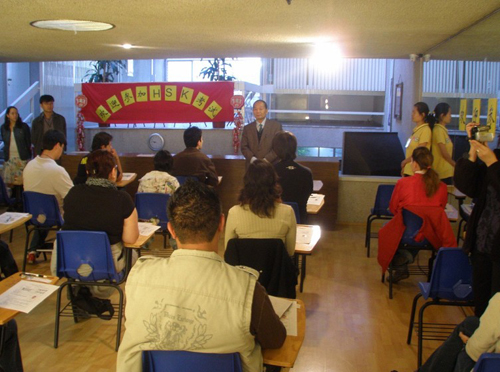 Mr. Dai inspecting the exam site